Window
to Chiang Mai Thailand
Chiang Mai - the pride of the North. The starting point of exciting trekking tours and excursions to the sights in Northern Thailand.
Chiang Mai is a beautiful city with a long history and very old traditions. Chiang Mai is famous for its beauty, culture, natural sceneries and the gentle nature of its people. Chiang Mai (somtimes also written Chiangmai or Chiengmai) is considered the cultural center of the North and it is the second largest city in the country, next to Bangkok.
It is located some 700 km north of Bangkok, among some of the highest mountains in the country. The Chiang Mai City area has a population of about 1 million.
Tours and Trekking
Tours & Sightseeing
Excursions and guided day tours including visiting hilltribe villages, elephant riding, bamboo- & whitewater rafting, jungle walking, mountainbiking, ATV rides, Doi Inthanon, Chiang Rai, Golden Triangle, Chiang Dao, skyline adventure, Long-neck Karen.
Temple Sightseeing, Activities, Handicrafts Shopping, Wat Prathat Doi Suthep, Khantoke Dinner, Cultural Show, Horse Carriage, Wiang Kum Kam, Dinner on the Ping River
Trekking Tours & Elephant Sanctuary
3 days 2 nights adventure trek & elephant care
2 days 1 night mahout training course + mini adventure
1 day elephant safari + Long-neck Karen
3 days 2 nights mahout training course & trek
2 days 1 night trek non tourists & elephant care
---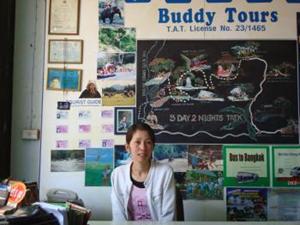 Elephant Care, Jungle & Adventure Trekking
with elephant riding, bamboo rafting and visiting hilltribe villages.
Play with elephants for half a day or a full day, Seven days volunteer program
One to three days trekking with elephant care, Special Off-road Sightseeing Tour
---
Thai Cottage Home Cookery School, Chiang Mai Thailand
Why choose Thai Cottage Home Cookery School?
Courses are given in traditional Thai family style -- Cooking is done in a clean open air kitchen -- Everyone has their own cooking station and wok -- Class size is limited to 10 persons in order to maximize individual attention -- Entire course can be vegetarian -- Dishes can be spicy/non-spicy to suit your taste -- All of the courses can be run in one day
All courses include:
Experienced English speaking Thai teacher -- Cooking rice & sticky rice -- Ingredients for cooking and drinks -- Recipe book and certificate -- Eat the food that you have cooked -- Free transportation from and to your accommodation
---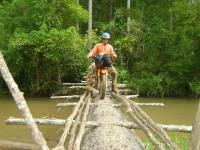 Chiang Mai Motorbike Adventures
Motorbike sightseeing and trekking tours for everyone
One to three days motorbike tours with 125 cc. or automatic motorbikes on and off-road through the mountains in Chiang Mai province with elephant riding, bamboo rafting and other activities.
---
Trekking and the Hilltribes in the Surroundings of Chiang Mai
---
The Sightseeing Guide to Chiang Mai, Thailand
Introduction to Lanna
Chiang Mai owes her existence to the Ping River. The river provided the route along which the power of Chiang Mai could be extended beyond the wall of mountains ... More
People and Culture of Chiang Mai
Seventy percent of the land in the north is mountainous and in the past was densely forested, making overland communication difficult. As a result each valley developed slight variations in customs and language ... More
Festivals in Chiang Mai
The Chiang Mai valley is blessed with festivals almost the whole year round. Old festivals are based on the lunar calendar and either have their origin in Buddhist traditions or in Brahmanic and Tai beliefs associated with the rice growing cycle ... More
Chiang Mai City Sights
Protected by the moats, the old city is filled with monuments that mark the course of change in the city's seven hundred year history. Generations have trod the narrow lanes that link the quiet neighborhoods to the temples and the markets. Along the main streets, trade has been the lifeblood of the city; but it is the spiritual and artistic striving focused at the temples that has given beat to city's enduring heart.
Historic Monuments
King Mangrai founded Chiang Mai at the location of a small Lawa settlement known as Wiang Nophaburi. The site lay between the river to the east and Doi Suthep mountain to the west ... More
When Visiting a Temple
Thais prefer visitors to temples to cover their bodies as a sign of respect for their religion. Religious objects like Buddha images and chedi should not be climbed upon or touched. When Thais sit on floors, they do not point their feet in a direction worthy of respect, such as a Buddha image, monk, or a teacher. They consider the head as "high" and the feet as "low".
The Main Temples of Chiang Mai
Chiang Mai Temples are the cultural and historical heart of the city. The most famous have been places of pilgrimage for northern people for centuries. As traditional centers of merit making, they are the best places to see Buddhist ceremonies ... More
Wat Chedi Luang
King Saen Muang Ma began building the Phra Chedi Luang to enshrine the relics of his father at the end of the 14th century, but King Tilokarat completed it ... More
Wat Jet Yod
King Tilokarat built the temple in 1455. The temple was probably copied from the design of the Mahabodhi temple in Pagan, which itself was a copy of the Indian temple at Bodhgaya ... More
Wat Chiang Man
This temple was built in 1297 at the site of the camp King Mangrai used when he supervised the building of Chiang Mai. It was the first temple to be built in Chiang Mai and contains several very old artifacts. More
Wat Phra Singh
This temple contains supreme examples of Lanna art. A chedi was first built by King Pha Yu (r.1337-55) to house the bones of his father King Kam Fu (r.1328- 37). The original name of the temple was Wat Li Chiang Phra but this was changed to Wat Phra Singh when the Phra Sihing Buddha image was first housed there in 1367. More
Wat Phrathat Doi Suthep
According to legend, the temple site was chosen by an elephant carrying a holy relic. Originally the relic was to be enshrined at Wat Suan Dok in 1371, but it split in two. The second piece was placed on the back of an elephant which proceeded to climb Doi Suthep, stopping twice ... More
Wat Suan Dok Temple
This temple originally lay in a fortified square beyond Chiang Mai walls. Legends tell that King Ku Na invited the venerable Sumana Thera, a very pious monk from Sukhothai to bring the Buddhism of Sri Lanka to Chiang Mai ... More
Wat U-Mong Suan Putha-tham
Located in a grove Wat U-Mong (Tunnel Temple) is a practicing meditation temple. The origins of the temple, which are traced to the 14th century, are obscure ... More
City Temples of Chiang Mai
Here are 36 active temples in the old city alone and many more in the greater city area ... More
Places of General Interest in Chiang Mai
Ever since King Mangrai founded the city, the market has been of fundamental importance. Today the commercial heart lies where it has always been - between the old city and the river.
Away from the traditional center, the National Museum and the zoo are some of the places of interest in the larger city area. More
Touring out of Town
In past times travelers had to follow tracks up the riverbeds and torrents, braving tigers and occasionally bandits, just to pass into the next valley.
While sealed roads now make travel easy, there still remains plenty of rugged mountainous country that may only be reached on foot or by four-wheel drive ... More
To the East and North
North-east to Doi Saket
(Half to one Day. H118 Chiang Mai - Chiang Rai. 50 km. return.)
Highway 118 goes almost straight to Doi Saket, where there is a temple (Wat Doi Saket) on a low hill.
For a different route back to Chiang Mai, you may take R1014 from the market of Doi Saket. The road goes to the handicrafts village of Bo Sang. More
East to Bo Sang & San Kamphaeng
(Half to one day. Round trip to hot springs 70 km.)
The road to Bo Sang is lined with handicraft emporiums. Bo Sang itself is a handicrafts village selling all manner of souvenirs, but specializing in umbrellas and Sa paper.
From Bo Sang, you may go to Doi Saket on R1014 or continue to San Kamphaeng, a small market town, and the hot springs beyond. Undeveloped rural countryside off the tourist track lies beyond the hot springs. A fast return journey avoiding the busy San Kamphaeng Road (H1006) may be made on H1317.
The San Kamphaeng Road
Sometimes referred to as the "handicraft highway", the San Kamphaeng Road is very busy. Though the many handicraft emporiums serve as destinations for tour coaches, individuals are also welcome. Many stores will provide an English speaking guide to show you around their handicraft demonstrations and factories. More
Wiang Kum Kam & the East Bank of the Ping River
(One Day)
Wiang Kum Kam (wiang goom garm) was a settlement long before it became King Mangrai's capital around 1287-90. Frequent flooding caused Mangrai to move, but the place remained important throughout the Lanna period... More
Mae Rim, the Mae Sa Valley and Samoeng
(Half to one day. Go along H107 as far as Mae Rim. Turn west off H107at KM. 17 onto R1095. Round trip to Mae Sa 66 km; to Samoeng via Mae Sa & Hang Dong 103 km ... More
Pai
Pai is a small Shan town on the Pai River in Mae Hong Son province. The temples are all in the Shan Burmese style, but there is also a strong Muslim community. Many wooden buildings remain in the town ... More
To the South
Lamphun
Half to one Day. Return 52 km. Lamphun station is 2 km from the old town. Regular buses begin at Chang Phuak bus station and may be caught at the start of the old Chiang Mai - Lamphun Road near the Nawarat Bridge.) ... More
South from Lamphun
To Doi Khun Tan National Park by Train
(1 or 2 Days. Morning departures from Chiang Mai at 06:45 only. Journey time to Khun Tan Station is about 80 minutes: Return the same day via Lampang only at 16:17 h.
For a day trip take a pack lunch and a change of clothes for the return journey. Park accommodation may be reserved. Tents are available from park officials.) More
Hang Dong and the Ping River
(Half-day. H108. Return via Ping River 40 km.)
Take this route if you want to look at two handicrafts - one traditional, and the other highly commercialized - and a fine 19th century temple showing the spiritual origins of modern wood- carving ... More
Chom Thong & Doi Inthanon National Park
Full Day. Round trip to summit 200 km. Regular buses to Chom Thong. Yellow minibuses from Chom Thong go to Mae Chaem and the summit)
You must start early if you want to visit Wat Phrathat Sri Chom Thong (60 km.) and go to the summit of Doi Inthanon (47 km. from Chom Thong) in one day ... More
Ob Luang National Park via Mae Chaem
(Overnight recommended. R1192 starts on R1009 on Doi Inthanon at KM.38. Mae Chaem 22 km ... More
Into the Mountains of Chiang Mai
The Mountains were once the preserve of aboriginals and were avoided by the lowland farmers ... More
---
General Information
Practical Information
Getting to Chiang Mai
Transport around Chiang Mai
Train and Bus Schedule to Chiang Mai
Communication, Phone Numbers, Climate
Map of Chiang Mai
Health, Hospitals & Clinics, Security
Malaria Prevention
Food
Fruits
Explanation of Thai words
Useful Thai Language
Activities
Leisure Activities
Traditional Thai Massage
Shopping
The Night Bazaar
Airlines to Chiang Mai
Airline Tickets from Bangkok to Chiang Mai
From Suvarnabhumi Airport (BKK)
Thai Airways
Bangkok Airways
From Don Mueang Airport (DMK)
Nok Air
Thai Air Asia
Thai Smile Air
Thai Lion Air
---


All kinds of cotton and tie-dye (batik) casual wear at reasonable prices. Tailoring service is also available!
Thai, Hilltribe & Indian Pants, Shirts, Skirts, Dresses, Bags, Hair Bands ... Website:
Laxmi Shop
---
---