Window to Chiang Mai Thailand
Mudplaying with Elephants

The Mountains
The Mountains were once the preserve of aboriginals and were avoided by the lowland farmers. With the arrival of logging interests and the hilltribes, roads began to penetrate into the high hills. These roads now bring visitors who wish to visit these hilltribes and see their culture. You may either rent a vehicle and drive straight up into the hills yourself, or take an organized trek with one of the many companies offering this service.
Dirt Roads into the Hills (All 4WD)
The dirt roads in the hills provide an opportunity for adventure. A motorcycle or "Caribian" is essential.
Though exploring dirt roads can be fun, going up remote dirt roads is risky and should be avoided in the rainy season. Rain can make steep tracks very muddy and dangerously slippery, if not impassable. Turning around can be difficult. Hill folk may help if you get stuck, but you should offer payment for the rescue service.
Tourist facilities do not exist and you may have to improvise for accommodation. Fuel is sold from drums in villages on main routes only. All signs (if there are any) are in Thai and usually indicate routes to distant villages with unfamiliar names. Even on good dirt roads, it is possible to take a wrong turning. Some spoken Thai is essential (to ask for directions and handle breakdowns, etc.), or you should take a guide. Guides can be hired for reasonable sums (500-1000 per day negotiable) by contacting your hotel or a nearby guest house or trekking agency.
That said, try any of the following for access into the hills.
Trekker's Lodge
(H118 KM.63 South-east turn 9 km.)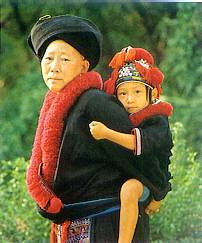 The road passes a Lahu village and goes on to other villages (Lahu, Yao, Karen) up the valley. After nine kilometers Trecker's Lodge (60-200 THB.) offers huts in a pleasant hill-side setting and provides a good base for further exploration.
R1013
(H108 KM.23)
This road runs west from Sanpatong climbing to ridges north-east of Doi Inthanon.
Hmong villages occupy the upper ridges while Karen villages are found lower down. Dirt roads north of Doi Inthanon traverse the high ridge line (recommended for bikes only). From Ban Huay Thong the road heads north to Ban Bo Kaew on the Samoeng - Wat Chan route.
Samoeng - Wat Chan - Pai
(96 km. + 46 km.)
This road is a popular route for motorcyclists and is fairly easy to follow. It passes over high ground and several Hmong and Karen villages. Fuel from drums is available at KM. 33 & 66 and at Wat Chan. Severe rutting at some places could make this route awkward in the rainy season. From Wat Chan take R1265 (unsealed - 4WD) for approx. 33 km. and cross the Pai River for faster access to Pai (joins H1095 at KM.91).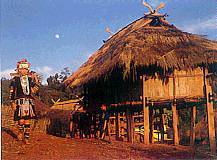 South of Chiang Dao
(H107 West turn KM.67)
About 500 meters past KM. 67 a small concrete road to the west leads up over the ridge south of Chiang Dao Mountain to the Hmong village of Pa Kia.
To Ban Sop Kai
(H107 KM.43 West turn on sealed road for 10 km. 4WD - 14 km. Return via Ban Sop Pueng. H1095 KM. 13 4WD - 23 km.)
A new concrete bridge crosses the Mae Taeng Stream at Ban Sop Kai. Exploration (best by bike) upstream of Ban Sop Kai is possible. Rooms and food are available at Ban Sop Kai (Ban Ta Kham Guest House. Three meals with rooms, mattress and net).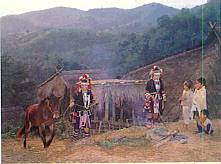 North of Chiang Dao
A dirt road (north turn to a ford across a stream 500 m. before Wat Pa Plong) skirts the north side of Chiang Dao Mountain on a remarkable route, passing trails to Lisu and Karen villages and continuing to an isolated stretch of fertile valley along the Mae Taeng Stream (Ban Luang Muang Khong, 47 km.). A bridge across the river carries a track that leads to Huay Nam Dang.
Wiang Haeng
(R1178 & R1322 return to junction at H107 KM. 75; 186 km.)
R1178 is a rough all-weather road passing Haw Chinese, Shan and hilltribe villages close to the Burmese border. R1322 offers more spectacular scenery on a high route. Wiang Haeng is a very small place. Piang Luang 13 km. north is more interesting.
See also:
Subsistence Agriculture in the Hills Papaver Somniferum (Opium Plant) Visiting Hilltribe Villages

Pai, Chiang Dao, Fang, Thaton & Phrao

Trekking in the Mountains
Sightseeing Guide
The Mountains
Site-map of Sightseeing Guide