Window to Chiang Mai Thailand
Mudplaying with Elephants

East to Bo Sang & San Kamphaeng
(Half to one day. Round trip to hot springs 70 km.)
The road to Bo Sang is lined with handicraft emporiums. Bo Sang itself is a handicrafts village selling all manner of souvenirs, but specializing in umbrellas and Sa paper.
From Bo Sang, you may go to Doi Saket on R1014 or continue to San Kamphaeng, a small market town, and the hot springs beyond. Undeveloped rural countryside off the tourist track lies beyond the hot springs. A fast return journey avoiding the busy San Kamphaeng Road (H1006) may be made on H1317.
The San Kamphaeng Road (H1006)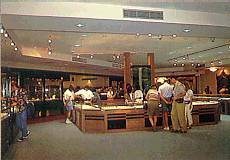 Sometimes referred to as the "handicraft highway", the San Kamphaeng Road is very busy. Though the many handicraft emporiums serve as destinations for tour coaches, individuals are also welcome. Many stores will provide an English speaking guide to show you around their handicraft demonstrations and factories.
Prices in the showrooms may not be cheap, however. Items like rosewood cabinets with mother of pearl can cost thousands of Dollars.
The jewelry emporiums have been darkened to look like grottos full of treasure. Sharks swim in fish tanks and pretty sales girls in traditional dress preside over glittering displays of jewelry.
Wat Buak Khrok Luang
See location at Google Maps: Wat Buak Khrok Luang
(just before KM. 4 south turn - 300 meters)
This temple has a charming wooden Lanna style viharn built around 1857. It is famous for its 19th century murals, which depict tales of the previous lives of the Buddha in a northern style. Continue down the lane to Ban Suan restaurant and access to H1317 beyond.
Ban Ton Pao
See location at Google Maps: Ban Ton Pao
(KM. 8 north turn - 500 meters)
Several households in this village make "Sa" paper from a plant which is related to the mulberry.
"Preservation House" (700 meters down the lane that runs north just opposite the school near KM.8) produces the paper and offers the widest selection of products for sale.
See also: How Sa Paper is Made
Bo Sang
See location at Google Maps: Bo Sang
(KM.8 north turn)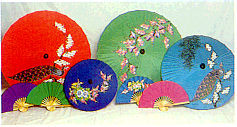 Souvenirs fill the small shops that line both sides of the high street, which at times becomes choked with buses full of Thai tourists.
Traditionally the umbrellas are made in the cool spaces beneath the raised houses, with households sometimes specializing in different parts of the process. This is best seen along the lanes off the north end of the high street.
The Umbrella Making Center (corner of H1006 & R1014) or The Sa Paper & Umbrella Handicraft Center (H1006 KM. 8) provide convenient one-stop looks at the entire process. From Bo Sang, take R1014 for a country route to Doi Saket (20 km.).
Wat Phra Pan
See location at Google Maps: Wat Phra Pan
(KM. 10 north turn - 1 km.)
Also known as Wat Phra Non Mae Pukha, the temple is set amidst the rice paddy. A large viharn has been built around a long reclining Buddha image. Murals in a recent style cover much of the walls. Many people come to bathe the image during the Songkran festival.
San Kamphaeng
See location at Google Maps: San Kamphaeng
In the Lanna period San Kamphaeng was famous for its pottery kilns; today modern kilns operate nearby. The small market town is prosperous and there are several handicraft shops. Take H1006 to the hot springs (18 km.) from the road junction in the middle of town.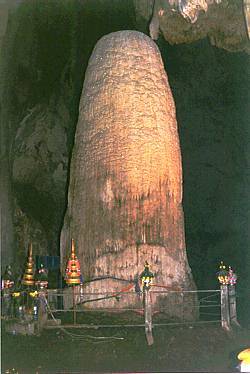 Muang On Cave
See location at Google Maps: Muang On Cave
(H1317 KM.28 west turn - 1 km.)
A narrow scaled road leads up the side of a hill to a small car park. From there you have to climb up a steep naga stairway for about 100 meters before reaching the entrance to the caves.
Make sure the lights have been switched on before descending into some big, deep caverns.
A large seated Buddha image amidst stalactites creates an impressive effect.
The San Kamphaeng Hot Springs
See location at Google Maps: San Kamphaeng hot springs
(H1317 KM.29 west turn - 3 km.)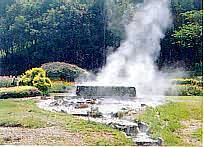 The San Kamphaeng hot springs (10 THB. entrance) and the Roong Arun Hot Springs Resort (20 THB. entrance) have geysers, mineral baths and gardens that make a pleasant setting for relaxation. Both offer accommodation, but the privately run Roong Arun Hot Springs has more the feeling of a resort.
The road past the hot springs leads to Ban Mae Pong, from where you may go to Doi Saket. Numerous narrow lanes make the route confusing, however. Return via H1317 and take R1147 east to visit Wat Pa Tung.
Wat Pa Tung
(12 km. from San Kamphaeng. When R1147 turns sharply right at low hills, go straight on a lane that leads due east.)
Located in the midst of paddy dotted with sugar palms, this temple contains a large, modern teak kuti. The kuti was built for Luang Pho La Chaiya Janto, who died in 1993 at the age of 96. His body is kept in a glass case.
The temple holds three festivals annually: Luang Pho La's death (16 March), paying respects to the chedi (8th day of the waxing moon in the seventh lunar month - around mid-June) and on his birthday (20 - 22 September).
The second festival features rocket and long drum contests, but the third festival is the biggest and holds a competition for traditional and northern classical dancing.
Mae Takhrai National Park and the Mae Tha Valley
See location at Google Maps: Mae Takhrai National Park and the Mae Tha Valley
(H1006. East turn onto R1229)
See also:
Mae Takhrai National Park
The road goes over a low pass before dropping down to the less developed upper Mae Tha Valley. The new and undeveloped park is 1 km. north of the junction. R1230 offers a picturesque route south along the Mae Tha Valley to H11 (35 km.).
See also: Bo Sang Umbrella Festival

North-east to Doi Saket
Sightseeing Guide
East to Bo Sang & San Kamphaeng
Site-map of Sightseeing Guide