Window to Chiang Mai Thailand
Mudplaying with Elephants

The Hmong Hilltribe in Chiang Mai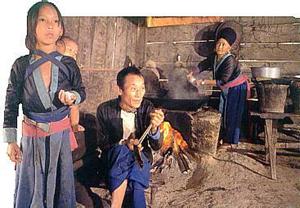 There are two subgroups of Hmong in Thailand; the Blue Hmong and White Hmong.
Blue Hmong villages are located on high mountain areas north from Doi Inthanon to the Burmese border. They are the closest group to Chiang Mai, with villages in the Doi Suthep - Doi Pui National Park area.
Hmong houses are built on the ground in clusters, with several clusters forming a village. The oldest male controls the extended family household that will include married sons and their families. The Hmong are divided into clans, which play an important part in rituals and relationships.
The Hmong believe in a number of household spirits as well as souls. Rituals are performed by household heads, but each village will also have a shaman to exorcise evil spirits and restore health to the sick.
The pleated skirts made of hemp died with blue and white batik patterns make the Blue Hmong women clearly identifiable. The women's jackets are made of black cloth decorated with elaborate embroidery for which the Hmong women are renown. Men's clothes are also made of loose-fitting black material, with embroidery on the jackets. The Hmong use silver both for adornment and as a show of wealth.

The Lahu

The Lisu
Sightseeing Guide
The Hmong
Site-map of Sightseeing Guide