Window to Chiang Mai Thailand
Mudplaying with Elephants

Handicrafts of Chiang Mai
The folk skills used to produce the necessities of daily life have combined with the high arts of decoration used in temples and court regalia to form the basis of Chiang Mai's famous handicrafts industry. Whether an elegant celadon vase, a length of homespun hemp cloth, or a carved wooden elephant, local artifacts make decorative souvenirs of the folk art of the region.
Places to Go Looking and Shopping
All handicrafts are available in the Night Bazaar area, where the range of outlets - from humble street stalls to posh air-conditioned boutiques - should please anyone. Several more shops open during the day may be found on Loi Khroh Road and on Thapae Road and in the evening hilltribe salesmen sell there products on the footpath.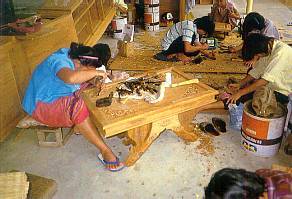 In the daytime, silver and woodcarving shops are open on Wualai Road, and several shops selling arts and handicrafts may be found at the northern end of Nimmanhaemin Road near the Amari Rincome Hotel.
The San Kamphaeng Road is known as the "handicraft highway", but the emporiums which handle bus tours have gone far from the cottage industry origins of each craft.
On Saturday evenings on Wualai Road and on Sunday evenings on Ratchadamnoen Road there are open markets called "Chiang Mai Walking Street". There you can buy every product made in the Chiang Mai area and they are usually very crowded.
For a historical look at handicrafts, go to the Chiang Mai National Museum for the best collection of artifacts. If you have a trade interest and want to see samples (or just buy something), much useful information can come from the government run Northern Industrial Promotion Center (158 Tung Hotel Road, 08:30-12:00, 13:00 - 16:30. Tel: 053243494, 053245361 Fax: 053248315).
All Handicrafts of Chiang Mai