Window to Chiang Mai Thailand
Mudplaying with Elephants

Wat Phra Singh
See location at Google Maps: Wat Phra Singh
(Singharat Road)
This temple contains supreme examples of Lanna art. A chedi was first built by King Pha Yu (r.1337-55) to house the bones of his father King Kam Fu (r.1328- 37). The original name of the temple was Wat Li Chiang Phra but this was changed to Wat Phra Singh when the Phra Sihing Buddha image was first housed there in 1367.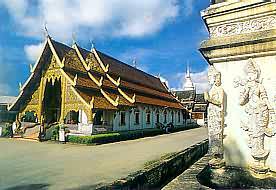 The temple was almost certainly abandoned before Kawila re-established it by building the ubosot, and rebuilding the chedi. Chao Thammalangka (r.1813-21) and his successor, Chao Kham Fan (r. 1821-1825) further added (or rebuilt) the Viharn Lai Kham and the elegant scripture library building. Further renovations were carried out in the 1920's when Khru Ba Srivichai supervised the construction of the present main viharn and rebuilt the chedi. The ubosot and scripture library were renovated in 1929.
The recently restored Viharn Lai Kham is a classic example of a Lanna style viharn and was built to house the Phra Sihing image enthroned inside. Lai Kham refers to the elegant gold tracery used for decoration. The front of the building is in three tiers. The portico has finely carved gables as well as an ornate stucco sum above the main doors.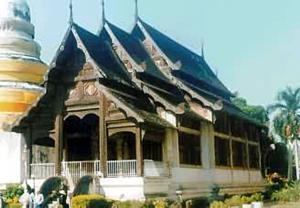 On the inner walls of the Viharn Lai Kham are some murals originally commissioned by Chao Thammalangka. These are famous for their period style and the detail depicting earthy northern Thai scenes and the ways of the Burmese Court.
The murals show two fables. Prince Sang Thong of the Golden Conch lies on the north wall and the Heavenly Phoenix takes up the south. The fables illustrate the long suffering of heroes fighting against the powerful forces of evil before Indra intervenes and allows good to ultimately triumph.
Recent restoration has removed the earlier restoration of the 1920's to show clearly the original style of the work. Much of the detail has been lost, however.
The north wall shows work done by a Chinese artist whose likeness is found in a small picture at the top in the middle of the wall.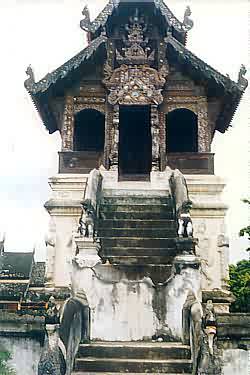 Directly to the east of the main chedi, the wooden ubosot has ornate carvings around its doors and stucco patterns on the wooden pillars. The ubosot, which is usually locked, contains a tower-like shrine known as a mondop. The shape of the shrine was said to be similar to an earlier structure that used to stand in Wat Phra Yeun, Lamphun.
The small scripture repository - ho trai - in the north-east corner is the finest of its type in the north. It sits atop a raised base decorated with stucco Devas. The upper wooden structure is decorated with carvings and stucco and is covered in glass mosaic and gilded lacquer.
At the back of the compound are the temple administration buildings, monks' kuti and a small hall contains a reclining Buddha.

Wat Chiang Man

Wat Phrathat Doi Suthep
Sightseeing Guide
Wat Phra Singh
Site-map of Sightseeing Guide