Window to Chiang Mai Thailand
Mudplaying with Elephants

Mae Rim, the Mae Sa Valley
and Samoeng
(H107 & R1096)
(Half to one day. Go along H107 as far as Mae Rim. Turn west off H107at KM. 17 onto R1095. Round trip to Mae Sa 66 km; to Samoeng via Mae Sa & Hang Dong 103 km. Yellow minibuses to Samoeng via Mae Sa wait near the Bangkok Bank on Chang Phuak Road.)
Road 1096 to Samoeng passes through the narrow valley of the Mae Sa. The river tumbles down numerous cascades which are best seen at the Mae Sa Falls. The natural beauty of the area and closeness to Chiang Mai has attracted orchid farms, elephant camps and resorts with lovely gardens.
The greatest attraction, however, is the new Queen Sirikit Botanical Garden.
In the higher part of the valley, flowers are grown for Chiang Mai market, and the Hmong cultivate the hills all around for vegetables.
The journey may be made into a full day-trip through pleasant upland scenery by visiting the small, undeveloped market town of Samoeng and returning via Hang Dong on R1296.
Huay Tueng Tao
See location at Google Maps: Huay Tueng Tao
(Turn west at any major turn-off to H121, follow H121 north, then follow the signs. Alternatively enter H121 anywhere, go west, then follow the signs)
A popular week-end recreation spot by a small reservoir on army land.
Places to relax with sticky rice, grilled meats and fish are numerous. Wind-surfing is possible (first right after left turn at T junction on approach road).
Go clockwise as far as possible to reach the Pluen Prai Restaurant. There you can have a fine catfish baked in silver foil - pla chon phao.
---
The Mae Sa Valley
See location at Google Maps: The Mae Sa Valley
Most travel agencies have tours that visit the numerous attractions. The listing is from east to west on R1096.
Book a tour to the Mae Sa Valley with Window to Chiang Mai
Snakes & Orchids
The orchid farms have large collections of orchids, as well as sections where butterflies may be seen pupating. All farms have restaurants and shops selling orchid jewelry. Along with other attractions, the orchid farms are found in the lower part of the valley.
Mountain Orchid
KM. 1 south turn - 400 m. 320/1 Moo 1, Rim Tai, Mae Rim, Chiang Mai 50180. Hours: 08:00 -17:00. (Adults 40 THB.) Tel: 053297343, 053299853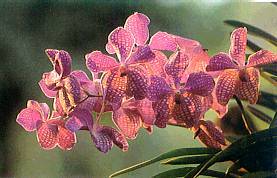 Sainumphung Orchid and Butterfly Farm
KM. 2 south turn - 400 m. 60 - 61 Moo 6, Mae Rim, Chiang Mai 50180. Hours: 07:00 - 17:00. (Adults 40 THB.) Also has Siamese cats. Tel: 053297892, 053297152
Mae Sa Snake Farm
KM.3 60 - 61 Moo 6, Mae Rim, Chiang Mai 50180. 30 minute "snake shows" are at 11:30, 14:15 and 15:30. Adults 120 THB. Tel: 053860719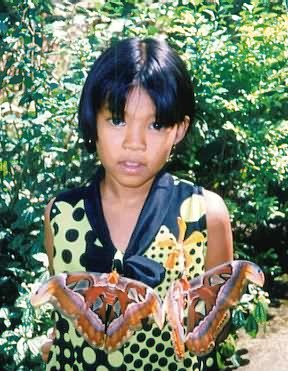 Kum Une Art Museum
KM.4 259 Moo 1, Mae Ram, Chiang Mai 50180. Hours: 09:00 - 17:00 closed Tues. Adults 100 THB, Children 30 THB. Small curio and antique museum that has been at this location for many years. Tel: 298068
Suan Bua Mae Sa Orchid
KM. 4 331 Moo 1, Mae Ram, Chiang Mai 50180. Hours: 08:00 - 17:00. Adults 10 THB, Tel: 053298564
Mae Ram Orchid and Butterfly Farm
KM.5 3/1 Moo 1, Mae Ram, Chiang Mai 50180. Hours: 07:00 - 16:00. Adults 10 THB. Good butterfly section. Tel: 298801
That Mok Falls
(KM.4 north turn - 9 km.)
The sealed side road just before the gas station leads to a charming less visited waterfall. Past the falls the road is unsealed (4WD) and leads to Hmong villages.
Mae Sa Falls
(KM. 6 south turn - 500 m. Doi Suthep - Doi Pui National Park. 30 THB. Vehicles, 10 THB adults)
Asphalt paths follow the stepped cascades that extend for almost two kilometers. Quiet, shady spots away from other people are easy to find during the week. Food stalls and a small visitor center are located by the car park. The tumbling river may also be seen at other places higher up the valley (Suan Damrong Achip at KM. 11 and the resorts).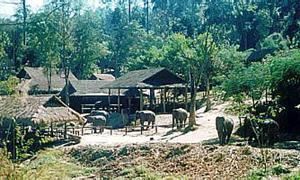 Mae Sa Elephant Camp
(KM.10 Elephant shows at 08:00 and 09:40; show only 120 THB. Elephant treks every hour from 07:00 to 11:00. Ride prices per elephant - max. 2 adults: 30 min. 800 THB; Tel: 053297060.)
The elephant show is good and the short ride offers the experience without pain to the pocket or the backside!
Queen Sirikit Botanical Garden
(KM. 12 Visiting hours 08:00 - 17:30. Office Tel: 299753)
Semi-paved walkways lead through grassy landscaped slope, where similar species are grouped. Occupying 3,500 Rai (almost 1400 acres), the gardens have a boardwalk and a five kilometer nature trail. Vehicles are not allowed and some zones are restricted in keeping with the scientific purposes of the gardens.
Founded in 1992 as a state enterprise under the Office of the Prime Minister. This is the first botanical garden in the kingdom.
They are being developed with advice from Kew Botanical Gardens in Great Britain, and are becoming the major attraction in the valley.
Hmong Villages
The villages close to the valley are good examples of how the Hmong pursue the modern economy but keep their ways. Ban Nong Hoi (KM. 1 5 north turn - 7 km. 4WD needed to go extra 3 km. to the more interesting Ban Nong Hoi Mai (New Ban Nong Hoi) has a royal project. A sealed road (KM. 16 south turn - 5 km.) goes through land used for flower cultivation to Ban Pha Nok Kok. Further, villages may be reached by dirt roads (4WD) at KM.23 & KM.26.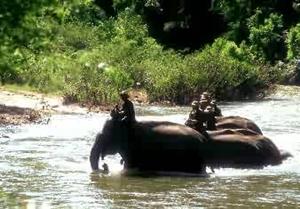 Pong Yaeng Elephant Camp
(KM. 18 south turn - 1.5 km. Show times 09:15, 10:15. 100 THB Adults. Elephant rides from 1- 6 hours at 1000 THB per hour; Tel: 215943, 409198)
Located higher up the valley, the camp offers scenic rides. The lane past the camp continues to a Thai village (1 km.) and then becomes a dirt road into the hills (4WD).
Samoeng
The town has a small market and one main street with some wooden buildings and a prominent concrete bank. To the north and south narrow lanes pass through picturesque villages along the narrow valley.
See location at Google Maps: Samoeng
Samoeng-Hang Dong (R1269)
(43 km. to Chiang Mai)
The return journey along R1269 offers good views of the western side of Doi Suthep - Doi Pui. In the broader part of the Tha Chang River Valley, luxury developments make this part of the valley look like a little Switzerland.
Mae Malai to Pai (R1095)
See locations at Google Maps: Mae Malai Pai
(Overnight. Starts on H107 at KM.35 Chiang Mai - Pai 131 km.)
The route to Pai begins at Mae Malai, a small market town, and twists and climbs through increasingly beautiful upland scenery onto a high ridge line (KM. 60 - 75). hilltribe villages may be found along dirt roads that lead off the main road. Pai is a small town in a narrow valley surrounded by high hills.
Muang Kut
(KM.3 north turn - 17 km.)
A road through rustic scenery leads to this small wooden village on the south bank of the Mae Taeng River. A dirt track continues a short distance into the uplands.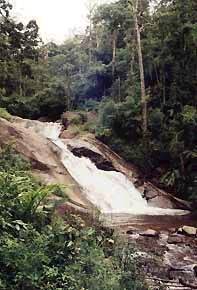 Wat Tha Kham
(KM.9 south turn - 1 km.)
A lane through a simple decorated arch goes to Wat Tha Kham. The viharn has some fading murals done in a primitive style. The lane going south from Wat Tha Kham is a quiet rural route that joins H 107 at KM. 18.
Mok Fa Falls
(KM.23 south turn - 1.5 km. 4WD)
The falls tumble into a deep pool at the end of a ravine - nice for swimming and a picnic.
Pong Duet Hot Springs
(KM. 42 north-east turn on dirt road - 6 km. 4WD)
These are some of the nicest hot springs in Chiang Mai province. The well-maintained park is in a pretty wooded valley and is not over-commercialized.
Rock dams form shallow pools for a hot soak 250 meters downstream of bubbling geysers.
The park offers walks to nearby hilltribe villages and camping.
Huay Nam Dang National Park
See location at Google Maps: Huay Nam Dang National Park
(KM. 65 north turn - 6 km. Accommodation available by advanced booking)
At one of the highest sections of the road a scaled road north leads to the park headquarters and a viewpoint. The park site is famous for its dawn view over the Mae Taeng Valley towards Doi Luang Chiang Dao. The dirt road (4WD) beyond the view point continues far through high country, passing Lisu and Haw Chinese villages.
See also:
Wat Phra Non Rocket Festival Orchids Mae Thorani

Ob Luang National Park via Mae Chaem

Pai, Chiang Dao, Fang, Thaton & Phrao
Sightseeing Guide
Mae Rim, the Mae Sa Valley & Samoeng
Site-map of Sightseeing Guide