Window to Chiang Mai Thailand
Mudplaying with Elephants

Basketry in Chiang Mai
Using bamboo and other materials which are easily worked and readily available, people throughout Thailand have for centuries been making all manner of household objects such as baskets, hats, and traps.
In rural societies both men and women may still be seen splitting bamboo into thin pliable strips that can be woven into intricate patterns. In the north the most common woven objects are steamers and containers for sticky rice, mats and traps for catching fish in the paddy fields. However, the skill demonstrated in older pieces is hard to match these days, and youngsters are seldom interested in the traditional skills.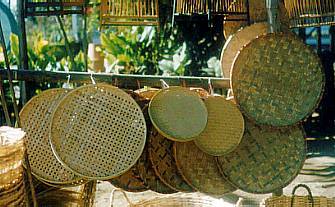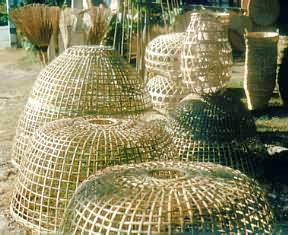 Where to see basketry:
Different villages tend to specialize in a certain type of woven product such as mats or containers, but there is no special place to see the weaving. Around KM.13 on H108 (The Chiang Mai - Hot Road), a number of shops sell woven bamboo products. Some may also be found in Wororot Market and the Night Bazaar.
Thawan Somtham
78 Moo 4, Tambon Pa Pong, Saraphi Chiang Mai 50140
Guided groups occasionally visit Thawan who leads a group of about 50 weavers dispersed around Pa Pong. Finding his workshop is difficult without a Thai speaker.
Tel: 053422899
All Handicrafts of Chiang Mai