Window to Chiang Mai Thailand
Mudplaying with Elephants

Woodcarvings in Chiang Mai

This art form in Thailand originated from the temples where religious objects such as Buddha images and pulpits were finely carved. Royal regalia for the court and household objects used by the nobility were also decorated with carvings. In temple buildings, the doors, shutters, gables and triangular brackets supporting the overhanging roofs were often intricately carved with animal and plant motifs. Some of the best examples of carvings in Chiang Mai are at Wat Duang Di, Wat Saen Fang and Wat Inthrawat (Wat Ton Khwen).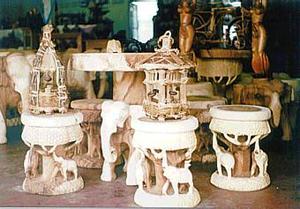 Nowadays craftsmen specialize in just one type of carving used in the decoration of a viharn. The modern woodcarving industry itself is a development of only the last few decades.
Traditionally only a few artifacts were commissioned, and the wooden elephant was the most common everyday carved object. The popularity of temple carvings imported from Myanmar as souvenirs encouraged dealers to get local craftsmen to reproduce them. The reproduction processes, which include aging methods such as burning and soaking in urine, have become so good that even experts have difficulty deciding whether an object is genuinely old.
Phra Bun Prasert (1925-1987)
This monk was a celebrated woodcarver who produced works in the traditional Lanna style. He specialized in the designs of door and window panels. The quality of the execution of the work depended on the hand of the craftsmen who actually did the carving. Examples of his work may be seen in the main viharn at Wat Buppharam, the scripture library at Wat Rampoeng and the chedi of Wat Phra Bat Tak Pho. He also did stucco work, the best example of which is seen at the ubosot which sits above the viharn of Wat Phan On.
The scarcity of teak has forced modern carvers to use other woods like that of the rain tree. These woods carve well and are inexpensive. Staining to hide the light colors of the woods has become more common. The carving itself is usually done in the rough in outlying villages near Mae Tha, before the pieces are sent for detailed work in the woodcarving center of Ban Tawai.
See also: Northern Thai Houses
Where to see woodcarving:
The best place to see woodcarving is at Ban Tawai, where carvers finish pieces in many of the hundreds of small and large shops selling carved wood products.
Chiang Mai Tusnaporn
123 Moo 3, San Kamphaeng Road., Chiang Mai 50130 KM.3.
Hrs. 08:00- 17:30.
Woodcarving and inlay on furniture.
Tel: 242801 Fax: 246394
Ratana House
284 Moo 6, Hang Dong Road, Chiang Mai 50000 (H108 KM. 6)
Hrs. 08:30-16:30.
Tel: 274356, 271734 Fax: 270922
Pech Viriya
56/1 Moo 1, Ban Buak Khang, San Kamphaeng
Hrs. 08:00-18:00. Sundays closed.
From his home in San Kamphaeng, Pech Viriya leads an organization of local carvers that specializes in wooden elephants. Even the small elephants are not cheap, but major Thai companies pay hundreds of thousands of THB for life sized beasts. With over 100 designs, Pech leads one of the most accomplished woodcarving teams in the country.
Tel. 053332578
Vichitsilp Furniture
54/5-7 Singharat Road
Tel. 053221024
Thaisin Wood Carving
189/24 Ban Tawai, T. Nong Kaew, A. Hang Dong
Tel. 053(01) 9528377, (01) 9518956, 433254
The Lanna Art & Culture Promotion Center
66/2 Moo 10, Ban U-Mong, T. Suthep
Tel. 053810690-6 Fax. 053810689
Chiang Mai Classic Antique
8/3 Moo 7, T. Ban Waen, A. Hang Dong
Tel. 053433840-1 Fax. 053433515
Chiang Mai Lanna Export 1994 Ltd., Part
109/1 Moo 3 Tambon Hangdong, Amphur Hangdong, Chiangmai 50230
Tel:+66-(0)53-433 769
Chiang Mai Woodcraft Co., Ltd.
107/9 Bo Sarng-San Kamphaeng Road, A. San Kamphaeng
Tel. 053338699 Fax. 053338960
All Handicrafts of Chiang Mai