Window to Chiang Mai Thailand
Welcome to Chiang Mai Motorbike (Motorcycle)
Adventures Chiang Mai, Thailand.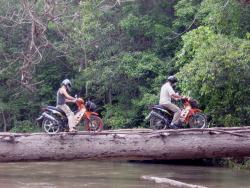 Our trips are a special mix of trekking and motocross going to remote areas where few tourists go.
You will feel freedom by driving your own bike to explore the jungle, villages and waterfalls in the countryside of Chiang Mai.
You will see the real and amazing life style of Thai people. Something that should not be missed when you visit Thailand.
The trip can be done by anyone, if you want to join the adventure but are unsure of your ability with driving a motorbike (motorcycle) we have staff that will drive for you.
We also use bikes with easy foot click gear change system that anyone can drive.
We designed these trips for people who do not want to go to tourist places all the time when visiting Thailand.

These tours are provided by Pornpimon Sumpradit (Ooy), Licenced Tourist Guide, Licence Nr. 21-2373,
Phone Nr: +66 (0)52 000496
Mobile Phone Nr: +66 (0)62 9645112
Address: 119/3 Moo 7, T. Sanklang, A. Sankhamphaeng, Chiang Mai 50130
!!!! Please call me personally. Others will be looking for a pretext to sell their tours.
Email:
Free transfer from Chiang Mai airport or bus or train station to your hotel or guesthouse in the city area. If you are alone, we will pay half the cost.
Our Tours: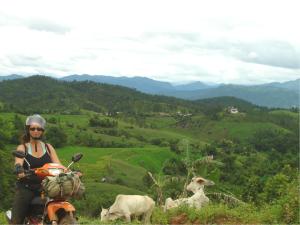 One day Doi Suthep and Waterfalls
Sightseeing tour 100% on paved roads to Wat Phrathat Doi Suthep temple, and Huay Tueng Tao water reservoir with stunning views. Price: THB
---
One day off-road Doi Inthanon
Sightseeing tour 70% off-road and 30% on paved roads to Doi Inthanon mountain, the highest peak of Thailand, visiting a Karen hilltribe village, waterfalls and the Royal Project. Price: THB
---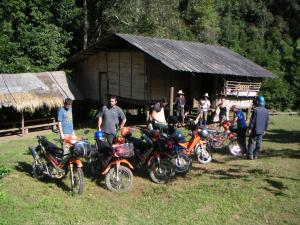 One day Mae Wang (Elephant riding, bamboo rafting)
Sightseeing tour 50% off-road and 50% on paved roads with activities like elephant riding (1 h) and bamboo rafting (1 h), visiting a Karen hilltribe village, waterfalls, Royal Project. Price: THB
---
One day Hot Spring (Orchid and butterfly farm, Show "Elephants at Work")
Sightseeing tour 50% off-road and 50% on paved roads where you can bath in hot mineral water. Price: THB
---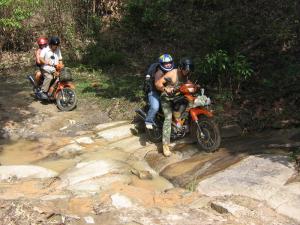 Two days Mae Wang (Elephant riding, bamboo rafting)
Sightseeing tour 60% off-road and 40% on paved roads with activities like elephant riding (1 h) and bamboo rafting (1 h), an overnight stay in bamboo hut, visiting a Karen hilltribe village and waterfalls. Price: THB
---
Two days Mae Chaem and Doi Inthanon
Sightseeing tour 50% off-road and 50% on paved roads to Doi Inthanon mountain, the highest peak of Thailand, visiting a Karen hilltribe village, waterfalls and the Twin Royal Pagodas. Price: THB
---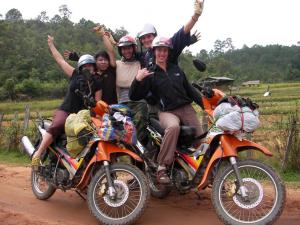 Three days Special Trip (Elephant riding, bamboo rafting) + Special Activities
Sightseeing tour 60% off-road and 40% on paved roads. About 400 kms around Chiang Mai with the chance to join in the Thai activities and festivals in the villages where we go. Price: THB
Tours, Sightseeing & Trekking
One to five days Sightseeing, Hiking, Adventure, Hilltribe & Jungle Trekking Tours
One to four days Special Treks & Sightseeing Tours
(AC-Van or 4x4 Offroad) Chiang Dao, Pai, Mae Hong Son, Doi Inthanon Chiang Rai, Mae Sai, Chiang Saen
Buddy Tours Mahout Training & Trekking