Window to Chiang Mai Thailand
Mudplaying with Elephants

Wat Phra Non Rocket Festival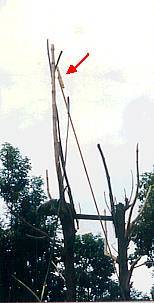 (H108 KM. 4 east turn opposite provincial hall - 600 m. Call TAT to confirm the date)
Rocket festivals are common in the sixth and seventh lunar months throughout the north and north-east of Thailand. They are held to herald the rain.
Wat Phra Non hosts a festival on the day of the new moon of the 7th lunar month (June).
Contestants take rockets to the temple in the early morning to compete for prizes for the most artistic rocket.
The rockets are launched in the afternoon from a site in scrub land just to the north of the 700 Year Sports Complex. Local temples are represented by teams who compete for best launch and flight.
Unlike other festivals which allow metal pipe, the rules only allow use of natural materials such as bamboo reinforced with hemp rope. The results are quite unpredictable.
Contestants are friendly and often quite drunk; so if you are offered a drink of alcohol, the polite response is to accept at least a sip.