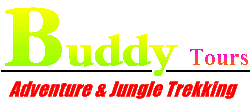 Buddy Tours, Elephant Care, Adventure, Hilltribe & Jungle Trekking
in Chiang Mai, Thailand
Home Trekking Info The Company Booking & Payment Info Where to find us
What you should bring with you on the trek
Hiking shoes or sport shoes (if possible not new ones)
1 copy of passport (ID-Card page), for insurance
Mosquito repellent
Clothes (long & short sleeves)
Flashlight or torch
Sun hat, sun screen
Towel, soap, etc.
Drinking water
Toilet paper
Swim wear
A little money (1000 THB in small denominations)
Other Information
The temperatures during the day are quite hot throughout the year and the sun is burning mercilessly down at you. You should bring a large drinking water bottle and you must protect your skin from sunburn.
During the day it is best to wear long trousers and a shirt with long sleeves. Also you should wear a hat. (Thais usually cover every part of their body with clothes if they have to remain in the sun for long.)
From the end of November to the beginning of February it can become quite cold at night. Sometimes near freezing temperatures in high places. You should prepare some warm clothes if you go trekking during that time.
During rainy season, from August to November, a rain coat or poncho may be appropriate.
While bamboo rafting you will become a little wet. It is best to wear shorts and sandals (if you have) while rafting.
Useful links:
The Karen hilltribe The Hmong hilltribe Trekking in Chiang Mai Visiting Hilltribe Villages Malaria Prevention