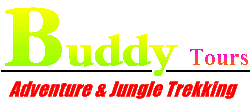 Buddy Tours, Elephant Care, Adventure, Hilltribe & Jungle Trekking
in Chiang Mai, Thailand
Home Trekking Info The Company Booking & Payment Info Where to find us
3 Days 2 Nights Adventure Trek & Elephant Care
Chiang Mai, Thailand
Guided jungle and hilltribe trekking tour including elephant bathing & feeding, bamboo rafting, jungle hiking, swimming at waterfall and visit of a Karen hilltribe village and overnight stays near hilltribe village and in jungle camp.
We do this trekking tour every day.
You can join a tour group any day.
We guarantee, that we have a place for you, whether you come alone or with several other persons.
Pick up from hotel or guesthouse: 08:30 - 09:30 h.
Back in Chiang Mai at about 17:00 h
Included are:
Elephant bathing & feeding (2 h)
Mud bath with elephants
Jungle trekking (2 h, 5 h, 1 h)
Bamboo rafting (1 h)
Visit of a local market, an old Temple
Swimming at waterfall
Visit of Karen hilltribe village
Overnight stay in a jungle camp
Overnight stay near a hill tribe village
We provide:
Transportation from and to hotel or guesthouse
Accommodation
Trekking guides and porters
7 Meals, tea, coffee
A small sleeping bag
A small backpack
Accident insurance
Safe place to leave your luggage during the trek
Please provide a copy of your passport (identification page, for the insurance).
Or send an Email to
(Please supply your full name, the departure date for the trek, the number of persons and the name and phone Nr. of the hotel or guesthouse where you will stay.)