Window to Chiang Mai Thailand
Tours & Trekking

The Phra Sihing Buddha Image
The Phra Sihing or Phra Singh Buddha image is considered especially elegant. It is one of a rare series of "lion" style images. The features of this style are said to be similar to those of a lost "Lion of Sakyas" image, which come from the Pala school in Bodhgaya, India.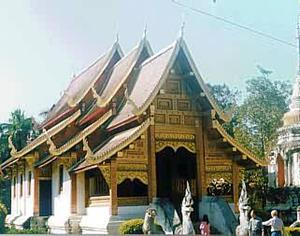 The distinct features of the "lion" style include the slight plumpness at the form as well as the lotus bud shape of the flame above the skull, and the short flap of cloth over the left shoulder that descends as far as the nipple.
However there is uncertainty as to how the image came to Lanna. A copy of the Pala school image in high relief may have been brought back to Chiang Mai in 1455, along with the plans of the Mahabodhi temple, which formed the basis for Wat Jet Yod. The Lanna sculptors who were of the Sukhothai school would then have made copies as bronze images in the round. Thus the "lion" style images of Lanna combine the flowing grace and posture of the Sukhothai school with features of the Pala school of India.
Another theory suggests that the original Phra Sihing image came from Sri Lanka via Nakhorn Sri Thammarat, where a similar "lion" style image is kept. In 1661 King Narai had the Phra Sihing taken to Ayutthaya, but Lanna soldiers fighting with the Burmese are said to have recovered it at the sack of Ayutthaya in 1767. The existence of yet another old "lion" style image at the National Museum in Bangkok suggests Lanna craftsmen made several copies. One thing is certain, at least, and that is the image in the Viharn Lai Kham is a replica, for the "original" is located in the Chiang Mai National Museum.
Lanna images were not only of the lion style, however. King Tilokarat also ordered images made reproducing other schools such as that of Sukhothai and U-Thong. These mixed style images were produced throughout Lanna.