Window to Chiang Mai Thailand
Tours & Trekking

The Emerald and Jade Buddhas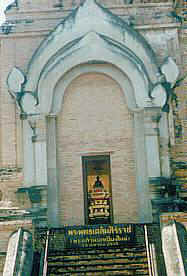 The Phra Kaew Morakot, better known a Emerald Buddha is made of a single piece of jasper and is Thailand's most revered Buddha image. It now resides in Wat Phra Kaew in Bangkok.
According to legend the image was first discovered in Chiang Rai in 1434 when lightning damaged a chedi and revealed a stucco Buddha image inside. The stucco covering later cracked to reveal the Emerald Buddha within.
Due to a willful elephant that would not take the road to Chiang Mai, the image first went to Lampang and stayed there for 32 years before King Tilokarat brought it to Chiang Mai in 1468. It stayed enshrined in the eastern niche of the Chedi Luang until King Setthathirat, who for a short period ruled the kingdoms of Lanna and Lan Xang, took the image to his capital at Luang Phrabang in 1548.
The image was only to return to Siam when Vientiane fell to Siamese forces in 1778.
The Phra Yok, a solid jade Buddha 70 centimeters tall, now resides in the eastern niche of the chedi. It was commissioned in 1995 for the 600th anniversary of the chedi.