Window to Chiang Mai Thailand
Tours & Trekking

Chao Kawila
Kawila was born in 1742, the first of ten children of Prince Chai Kaew of Lampang. After he had become ruler of Lampang, Kawila joined with Prince Chaban, the ruler of Chiang Mai, in a plot to rid the cities of oppressive Burmese rule.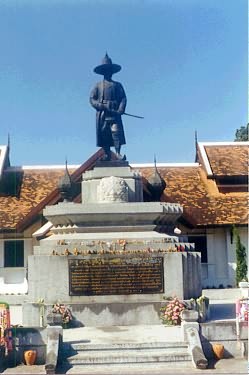 In 1767, they sought the help of King Taksin who had regrouped his forces at Thonburi after the destruction of Ayutthaya.
Taksin sent an army under the command of Chao Phraya Chakri. With the help of Kawila, they overthrew the Burmese in Lampang in 1774 and Chiang Mai in 1776. After Burmese counter-attacks, however, Chiang Mai had to be abandoned.
In spite of an incident that resulted in imprisonment, sickness and death for Prince Chaban, and in Kawila being lashed and having the rims of his ears sliced for impudence, King Taksin gave Kawila the task of rebuilding Chiang Mai. His position as a vassal was strengthened, however, when Chao Phraya Chakri took the throne as Rama I in 1782.
Kawila campaigned against the Burmese, building up manpower to repopulate the city. He formally reoccupied the city in March 1796.
Threats to Chiang Mai continued, but Kawila added to its strength by rebuilding the fortifications. He also began rebuilding the city's temples.
In 1802, King Rama I officially appointed Kawila, as ruler of Chiang Mai.
Kawila placed his brothers as rulers of other northern cities and continued with campaigns against the Burmese. He died of fever in 1815 at the age of 73, leaving a brother as the new Chao. The second of Kawila's two sons eventually become the sixth ruler of Chiang Mai, Chao Kawilorot.
The results of Kawila's work may be seen in many parts of Chiang Mai. As a tribute to his military skills, his statue stands in front of Army Camp Kawila.