Window to Chiang Mai Thailand
Tours & Trekking

North-east to Doi Saket
(Half to one Day. H118 Chiang Mai - Chiang Rai. 50 km. return.)
Highway 118 goes almost straight to Doi Saket, where there is a temple on a low hill.
For a different route back to Chiang Mai, you may take R1014 from the market of Doi Saket. The road goes to the handicrafts village of Bo Sang.
Wat Doi Saket
See location at Google Maps: Wat Doi Saket
(KM. 15)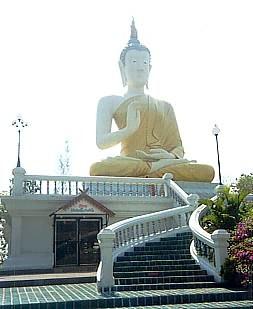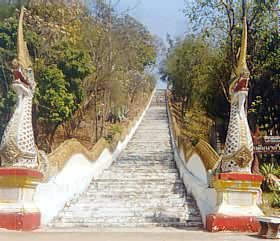 The temple sits atop a low hill reached by a naga stairway (a road to the right of the stairway leads up to the back of the temple). At the top a small grotto with mythical statues lies to the left. The unique decorations of the viharn include unusual stucco motifs and murals.
Artist Chaiwat Wannanon took four years in the early 1990's to paint the murals in a magic realist style. The temple grounds contain a monastic school and a giant seated Buddha image.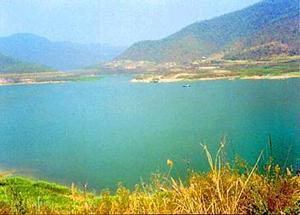 Mae Kuang Dam
See location at Google Maps: Mae Kuang Dam
(KM 17, left turn before the road leads into the mountains; Open 08:00 - 18:00)
Good for a small walk in fresh air. Boats can be rented in the back of the lake for an about 1 hour trip around the lake (300 THB). A food stall (no English menu) is near the boat landing but is not always open. Take your own food and beverages recommended. Sticky rice and fried chicken can be bought at almost every market.

Touring out of Town
East to Bo Sang & San Kamphaeng
Sightseeing Guide
North-east to Doi Saket
Site-map of Sightseeing Guide