---
Our Treks
1 Day
New
Only Private
---
---
Buddy Tours
Telephone
Phone: +66 (0)53 384129
Ooy: +66 (0)89 4334061
---
Weather
---
Other Services
Visa to Laos
Airline tickets
Rail & bus tickets
Temple sightseeing
Show "Elephants at Work"
Orchid and butterfly farm
1 day tour Chiang Rai &
"Golden Triangle"
1 day tour "Doi Inthanon"
Tour to handicraft village
Boat cruise on the
Mae Ping river
Khantoke Dinner
Or book this tours with
Window to Chiang Mai
---
Buddy Tours
Telephone
Phone: +66 (0)53 384129
Ooy: +66 (0)89 4334061
---
Cheapest Hotelrooms
in Chiang Mai
Wiriya House
(Guest-house in the main tourist area)
Classic Home Cooking
(Best cooking school in Chiang Mai)
One Day Adventure Trek Elephant Riding & Bamboo Rafting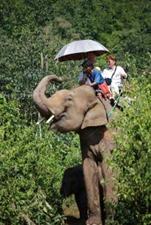 We do this trekking tour every day.
You can join a tour group any day. We guarantee, that we have a place for you, whether you come alone or with several other persons.
Included are:
Elephant riding 1h
Bamboo rafting 1h
Mae Wang Waterfall (swimming)
Jungle hiking 1h
We provide:
Transportation from and to hotel (from & to airport + 200 Baht)
Trekking guide
Lunch
Our Prices:
Please complete the form below.
Prices given are per person.
Children up to 10 years old pay 60% of adult price.
On a "joint trek" you will join with others (8 - 10 persons).
Pax = persons.
For private trek at least 2 adults, 1 Adult and 1 child pay price of 2 adults, 2 children are counted as 1 adult.
Itinerary
8:00 - 8:30 a.m. : Pick-up from hotel or guest-house by air-conditioned van.
We will leave Chiang Mai on highway 108 past the airport to Sanphathong, and further to "Mae Wang Elephant Camp", an about 1h drive. You will have a little time to look around the elephant camp while the mahouts prepare the elephants for the ride. The elephant ride will lead you through a wonderful mountainous jungle landscape for about 1 hour.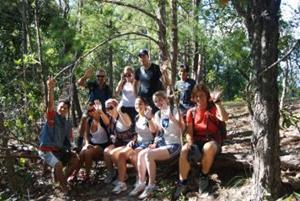 After the ride we will drive to the raft landing. From here you can make an exiting ride down "Mae Wang" stream on a raft made of bamboo stems bound together. The ride will take about 1 hour. From the there we will drive to a "Shan" (Tai Yai) village where we will have lunch. After lunch we will drive to a "Karen" hilltribe village. There you can watch "Karen" women weaving on hand-looms and you will get some insides into the living of the "Karen" people. Also you can buy hand-woven fabrics and other souvenirs made in the village. The guide will lead a tour through the village for about half an hour.
From there we will drive to the "Mae Wang" falls, where we will make a brake. You can swim there, walk around or just relax. Here we start our jungle walk to "Ban Pha Daeng" village, a village of the "Meo" tribe. The guide will lead a tour through the village for about half an hour.
From there we will walk to the rubber boat landing and make an exciting ride down "Mae Wang" stream
After that back to Chiang Mai where you will arrive at about 17:00h.
Trekking Pictures of 1 Day Adventure Trek, Buddy Tours, Chiang Mai

| | |
| --- | --- |
Map of 1 day trek, Buddy Tours, Chiang Mai
Useful links:
[The Karen hilltribe] [The Hmong or Meo hilltribe] [Trekking in Chiang Mai]
[Visiting Hilltribe Villages] [Malaria Prevention]